As for myself? I carry, and have long carried, one type of pistol or another. The type and caliber of these pistols has been determined mostly by those places in which they were carried: in the woods and fields, in town, or at home; but most of them have been in either 45 ACP, or 9x19mm. I do prefer, though, to spend most of my time carrying a Glock Model 21 (in 45 ACP).
This is one of them ~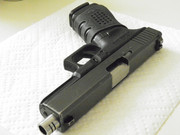 Once in a while I'll carry a comfortable Glock Model 19(RFT2) in 9x19mm; but, darn it, as much as I like this pistol, I always end up feeling so naked; and my environmental paranoia quotient goes way up!)
Here it is ~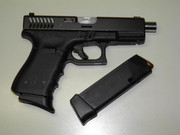 Yes, I do fire my 45 ACP pistol perceptively slower than a shooter with a '
fast 9
'; but I'm still every bit as accurate; and my bullets always seem to hit significantly harder and do more damage.
Quite frankly, I don't think I'm going to be changing pistol calibers anytime soon!